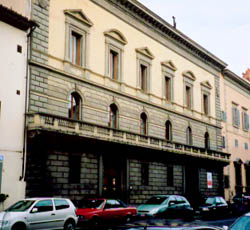 Facade on Via del Prato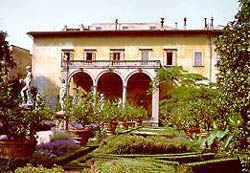 Garden facade
In 1774 King Charles III and Queen Louise came to live in Florence. Prince Corsini loaned them one of his palaces to serve as their residence. 1 They resided here until 1777 when Charles purchased the Palazzo San Clemente.
There are several Corsini palaces in Florence. The one in which Charles and Louise lived is not the one on Lungarno Corsini with the famous art collection, but rather the one on the west side of the city at Via del Prato 58 near the Porta al Prato. It is sometimes called the "Casino Corsini". It is a grey three-storeyed building.
One source suggests that the palace still houses two miniatures, one of King Charles III and the other of King Henry IX and I. 2
The palace remains in the ownership of the Corsini family today. The gardens are open to the public. (Telephone: 39.055.218994)
---
Notes
1 Amy Vitteleschi, A Court in Exile (London: Hutchison, 1903), II, 407.
2 Leonardo Ginori Lisci, The Palazzi of Florence: Their History and Art (Florence: Giunti Barbèra, 1985), I, 299.
Image 1 (Facade on Via del Prato): © Noel S. McFerran 2001.
Image 2 (Garden facade): Union of European Historic Houses Associations, "Giardino di Palazoo Corsini sul Prato" (http://www.uehha.org/it/Toscana/corsini_en.htm)
---
This page is maintained by Noel S. McFerran (noel.mcferran@rogers.com) and was last updated November 10, 2003.
© Noel S. McFerran 2000-2003.