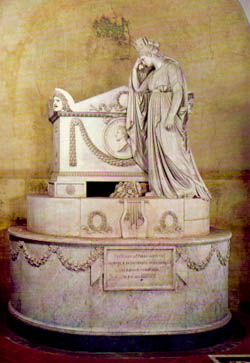 Monument to Count Vittorio Alfieri
Half way down the nave in the right aisle, between the monuments to Nicolo Machiavelli and Dante Alighieri, is the funerary monument to Count Vittorio Alfieri (died 1803). It was commissioned by Queen Louise and sculpted by Antonio Canova. 6
On an oval base decorated with a lyre and two wreaths stands a female figure weeping over a sarcophagus; she wears a mural crown (i.e. a crown made of city walls) and represents either Florence or Italy. The top of the sarcophagus is decorated with a poet's laurel wreath in the centre and with a mask of Tragedy and a mask of Comedy at the left and right corners. The front of the sarcophagus is decorated with garlands and with a relief portrait of Alfieri in a round cartouche. Around the portrait is an inscription:
VICTORIVS·ALFERIVS·ASTENSI
Vittorio Alfieri of Asti
Below on a larger oval base there is a Latin inscription which reads as follows:
VICTORIO ALFERIO ASTENSI
ALOISIA E PRINCIPIBVS STOLBERGIS
ALBANIAE COMITISSA
M P C AN MDCCCX
To Vittorio Alfieri of Asti,
Louise, Princess of Stolberg,
Countess of Albany,
placed this monument, 1810.
Several models for the monument as well as an earlier stele version are in the collection of the Museo Canova in Possagno.
The basilica is open weekdays 8.00 a.m. - 6.30 p.m. and holidays 3.00 p.m. - 6.00 p.m. (Telephone: 39.055.244619). It is a major tourist site, and it is often necessary to stand in line for some time in order to enter the basilica.
---
Notes
1 The supporters are on the dexter a lion guardant crowned, and on the sinister a unicorn gorged with a coronet (i.e. around the neck) and with a chain affixed thereto passing between the forelegs and reflexed over the back. In this particular rendition of the royal arms, the unicorn seems to have mislaid his horn, and bears a significant resemblance to a horse; the chain too is not affixed in the normal fashion.
2 Charles Perçier was born in Paris in 1764, and died in Paris in 1838. He designed theatre scenery, buildings, and interior decors. Much of his work was done in collaboration with Pierre-François-Léonard Fontaine; they are perhaps best-known for their design of the Arc de Triomphe in Paris. The only work that can with certainty be attributed to Perçier alone is the tomb of Queen Louise.
3 The sculptor Emilio Santarelli (1801-1886) was from Florence. In his will, Fabre left Santarelli all the Alfieri items he had received from Queen Louise; these are now in the Biblioteca e Museo Alfieriano in Asti.
4 The sculptors Luigi Giovannozzi (1791-c. 1870) and Ottaviano Giovannozzi (flourished 1820-48) were from Settignano, a town near Florence.
5 Herbert M. Vaughan, The Last Stuart Queen: Louise, Countess of Albany, Her Life & Letters (London: Duckworth, 1910), 338.
6 Antonio Canova was born in Possagno, near Treviso, in 1757, and died in Venice in 1822. He was the foremost sculptor of his time. In 1819 he completed the monument to the Stuart kings in Saint Peter's Basilica. Early versions of his monument to Alfieri can be seen at the Museo Civico in Bassano and at the Gipsoteca Canoviana in Possagno.
Image 1 (Monument to Queen Louise): Luciano Berti, Il Pantheon di Santa Croce a Firenze (Italy: Giunti, 1993), 236.
Image 2 (Monument to Count Vittorio Alfieri): Firenze, Santa Croce, Antonio Canova (1757-1822), Monumento a Vittorio Alfieri [postcard] (Florence: Bonechi, 1973).
---
This page is maintained by Noel S. McFerran (noel.mcferran@rogers.com) and was last updated July 3, 2010.
© Noel S. McFerran 2000-2010.