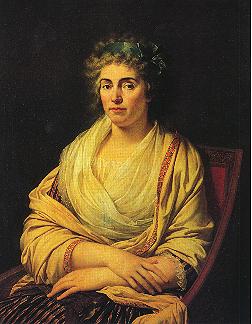 Portrait of Queen Louise by Fabre

Among the many paintings in this magnificent art collection are an oil portrait on canvas of Queen Louise (wife of King Charles III). The painting measures 93 cms x 73 cms, and hangs next to a companion portrait of Count Vittorio Alfieri; these were painted in 1793 by François-Xavier Fabre. 1 Louise left the portraits to the Uffizi Gallery in her will. Today they hang in the French Room, Room 45, virtually the last of the rooms in the gallery.

In her will Queen Louise also left to the Uffizi another oil painting by Fabre, entitled "The Death of Narcissus" (1814); at her death, however, Fabre kept the painting which he then donated to the Musée Fabre in Montpellier. 2

The gallery is open Tuesdays to Fridays 9.00 a.m. - 7.00 p.m., Saturdays 9.00 a.m. - 8.00 p.m., Sundays and holidays 9.00 a.m. - 2.00 p.m. Entrance fee L15.000. Reservations are suggested. (Telephone: 39.55.294883).
---
Notes
1 The French painter, printer and collector, François-Xavier Fabre was born in Montpellier in 1766, and died in the same town in 1837. He studied under Jacques-Louis David and in 1787 won the Prix de Rome. In 1793 he moved to Florence where he was introduced to Queen Louise by the Bishop of Derry, Lord Howard de Walden (called "Earl of Bristol"). The commission for a portrait of Count Vittorio Alfieri came first, followed shortly after by a commission for a portrait of Queen Louise. Fabre's brother, Edouard Fabre, was physician to Alfieri. After Alfieri's death in 1803, Fabre became Louise's companion. When Louise died in 1824, she left the majority of her estate to Fabre. In 1830 he received the title of baron ad personam from King Charles X of France, brother-in-law of King Charles IV and King Victor.
2 Herbert M. Vaughan, The Last Stuart Queen: Louise, Countess of Albany, Her Life & Letters (London: Duckworth, 1910), 334. François-Xavier Fabre, XXXI Festival dei Due Mondi - Spoleto (Roma: De Luca Edizioni d'Arte, 1988), 52.
Image 1 (Portrait of Queen Louise by Fabre): Gli Uffizi (Florence: Bonechi, 1995), 347.
---
This page is maintained by Noel S. McFerran (noel.mcferran@rogers.com) and was last updated November 10, 2003.
© Noel S. McFerran 2000-2003.