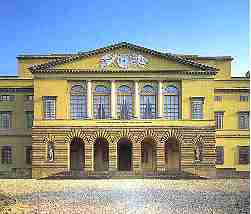 Facade
This large villa to the south of the city formerly belonged to the Grand Dukes of Tuscany. In 1799 Grand Duke Ferdinand III loaned it to King Charles Emanuel IV of Sardinia (later King Charles IV) as he withdrew from Turin to Sardinia. Charles Emanuel arrived here January 17th and remained about a month. It was here that he received Count Vittorio Alfieri (companion of Queen Louise, wife of King Charles III), greeting him with the famous words "Voici votre tyran!" (Behold, your tyrant). 1
In 1865 the villa became a very exclusive girls school, the "Collegio della Santissima Annunziata". The villa may be visited by appointment on Wednesdays; it is closed in August. (Telephone: 39.055.220151).
---
Notes
1 Herbert M. Vaughan, The Last Stuart Queen: Louise, Countess of Albany, Her Life & Letters (London: Duckworth, 1910), 237.
Image 1 (Facade): Sophie Bajard and Raffaello Bencini, Villas and Gardens of Tuscany (Paris: Terrail, 1993), 72.
---
This page is maintained by Noel S. McFerran (noel.mcferran@rogers.com) and was last updated November 10, 2003.
© Noel S. McFerran 2000-2003.