The city of Avignon is located about 90 kilometres north-west of Marseille. From 1348 to 1797 it was owned by the popes and not part of the Kingdom of France (although it was repeatedly invaded and occupied by the French).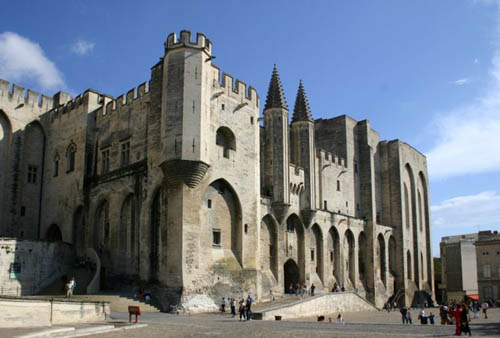 Palais des Papes
King James III and VIII lived at Avignon from April 2, 1716 to February 6, 1717 and from August 23, 1727 to December 20, 1727. He resided at the Hôtel de Villefranche in the Passage des Boucheries which goes from rue du Vieux-Sextier to rue de la Bonneterie. The Hôtel de Villefranche was destroyed in 1743. James was in the habit of hearing mass at the Collège de Saint-Genêt. When he left Avignon, he made an offering to the Collège which was used to decorate the chapel dedicated to Saint James. 1
Henry, Duke of York (later King Henry IX and I) visited Avignon in 1745 on his way from Rome to Paris. 2 He arrived at the beginning of September, and intended to proceed to Paris immediately; but he fell ill of fever and did not leave for almost two months until the end of October. Henry stayed at the home of the Duke of Ormond.
The Prince Regent (later King Charles III) lived at Avignon from December 27, 1748 to February 25, 1749. When he first arrived, he stayed at the home of the Earl of Dunbar and his sister the Duchess of Inverness. Then he resided at the Palais des Papes, and later at a house on the outskirts of the city. 3
There was a significant Jacobite colony at Avignon on account of the residence of James III and VIII in the town in 1716 and 1717. Other Jacobites moved there later attracted by the fact that it was a papal enclave.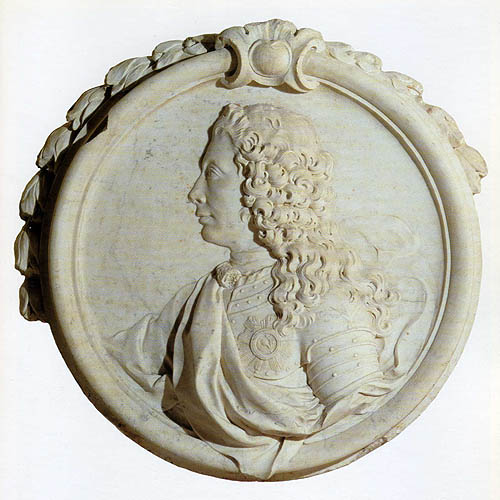 Tomb of the Duke of Inverness
John Hay, Duke of Inverness, sometime Secretary of State to James III and VIII, and his wife, born the Honorable Marjory Murray, moved to Avignon in 1731; they lived in the hôtel d'Ancezune. 4 The Duke of Inverness died at Avignon, September 24, 1740, and his wife died there, October 6, 1766. Both were buried in the chapel of Saint-Geniès in the parish church of Saint-Geniès. The church was much damaged during the French Revolution at which time presumably the tomb was destroyed. In 1818 the round relief from the tomb was donated by the town of Avignon to the Musée Calvet. The relief shows a portrait bust of the Duke of Inverness in profile facing left. He wears a cuirass with a cloak over one shoulder. On his breast is the star of the Order of the Thistle. According to Canon Jean-Raymond Deveras there was a Latin inscription on the tomb: 5
D O M
HIC JACET JOANNES DE HAIJS
COMES DE INVERNEST
INCLITI ORDINIS STI ANDREAE EQUES
JACOBO III MAGNAE BRITANNIAE REGI
JUS SUUM ARMIS REPETENTI INTER PRIMIS
ADFUIT OPTIMO PRINCIPI ET FIDUS ET GRATIOSUS VIXIT
OBIIT AN. DNI MDCCXL AETATIS SUE IL
MARCELLA DE MURARIIS EX VICE COMITIBUS DE STORMONT
OPTIMO CONJUGI CONJUX AMANTISSIMA POSUIT.
The Duchess of Inverness owned a collection of medals including some from James III and VIII which were purchased by Esprit Calvet. Presumably these are owned by the Musée Calvet today.
James Butler, Duke of Ormond, sometime Commander-in-Chief of His Majesty's Forces, lived at Avignon from 1732 until his death there in 1745. 6
In 1747 James Murray, Earl of Dunbar, sometime Secretary of State to King James III and VIII and brother of the Duchess of Inverness, retired to Avignon where he lived until his death there in 1770. 7
Notes
1 Paul Achard, Guide du voyageur, ou, Dictionnaire historique des rues et des places publiques de la ville d'Avignon (Avignon: Seguin ainé, 1857).
2 Alice Shield, Henry Stuart, Cardinal Duke of York, and His Times (London: Longmans, Green, 1908), 79-80.
3 Frank McLynn, Charles Edward Stuart: A Tragedy in Many Acts (London: Routledge, 1988), 371, 376. Cf. Shield, 129: "He took one [i.e. a house] belonging to a merchant named Robert, the best in the town (State Papers, Tuscany)".
4 Philippe Malgouyres and Philippe Sénéchal, Peintures et sculptures d'Italie: Collections du XVe au XIXe siècle du Musée Calvet, Avignon (Avignon: Musée Calvet, 1998), 130.
5 Jean-Raymond Deveras, Recueil des épitaphes et inscriptions qui sont dans les églises d'Avignon, 1750, Avignon, Palais du Roure, ms. 5205, folio 73 verso, quoted in Malgouyres and Sénéchal, 131.
6 Stuart Handley, "Butler, James, second duke of Ormond (1665-1745)", Oxford Dictionary of National Biography (Oxford: Oxford University Press, 2004). He is buried in Westminster Abbey.
7 Melville de Massue de Ruvigny, The Jacobite Peerage, Baronetage, Knightage & Grants of Honour (Edinburgh: T.C. & E.C. Jack, 1904), 44. I have not been able to determine if Lord Dunbar was buried in Avignon.
Image 1 (Palais des Papes).
Image 2 (Tomb of the Duke of Inverness): Malgouyres and Sénéchal, 131.