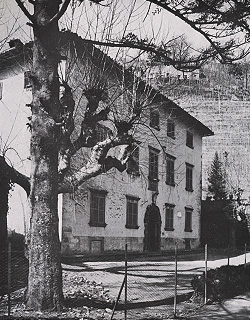 Facade
The town of Bagni di Lucca is located about 20 kilometres north of the city of Lucca, and about 60 kilometres west of the city of Florence.
In 1722 King James III and VIII and Queen Clementina came to Bagni di Lucca to take the waters in its famous thermal baths. They stayed in the Palazzo Buonvisi (also called Villa Buonvisi; sometimes spelt Bonvisi). The villa is located in Piazza di Sopra, above Piazza del Bagno.
Queen Clementina arrived here on July 23 and was joined by King James on August 8. They remained here until the end of September. 1 The Republic of Lucca gave royal honours to King James and Queen Clementina, an action against which the Elector Georg I of Hannover retaliated by forbidding the importation of olive oil from Lucca into England. 2 While here King James touched for the king's evil. 3
The Buonvisi were a banking family and had had a long association with England. Antonio Buonvisi (1484-1559) lived in London and was a great friend of Saint Thomas More. The family took great pride in their past English associations. On February 16, 1685, Cardinal Francesco Buonvisi, Papal Nuncio at Vienna, wrote to King James II and VII, "I hope that Your Majesty will recall what one of my ancestors, Cavaliere Antonio Buonvisi, did for the faith in that reign with the close friendship that he had with Thomas More, and what he then did for the Catholic refugees of England in London". 4
---
Notes
1 Maurizio Burlamacchi, Le Antiche Case del Bagno alla Villa (Firenze: Seeber, 1969), 91. The Archivio di Stato in Lucca owns a file of letters (January 11, 1721 - January 14, 1726)related to James' visit and particularly the possibility of his transferring his primary residence to the town (Offizio sopra le differenze dei confini, 458); cf. Inventario del R. Archivio di Stato in Lucca (Lucca: Giusti, 1872), I, 272.
2 Ibid.
3 Olive Hamilton, Parardise of Exiles: Tuscany and the British (London: Andre Deutsch, 1974), 34-35.
4 "Spero che sarà alla notitia di Vostra Maestà quello che operò per la religioni Cavaliere in codesto regno Antonio Buonvisi uno dei miei maggiori, con la stretta amicizia che hebbe con Tomaso Moro, e quello che poi egli fece per i cattolici d'Inghilterra refugiati in Londra". Archivio di Stato di Lucca, Archivio Buonvisi, P. II, F. 23, c. 76r, quoted in Elio Bertini, Le Grandi Famigilie dei Mercanti Lucchesi: L'Oligarchia a Lucca e la Congiura degli Antelminelli (sec. XVI - XVII) (Lucca: Maria Pacini Fazzi, 1976), 29.
Image 1 (Facade): Burlamacchi.