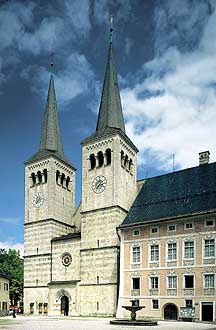 Facade
The church of the former Augustinian priory is located immediately to the right of Schloss Berchtesgaden. The church is dedicated to Saint Peter and Saint John the Baptist.
Princess Irmingard was baptised in the church in 1923. 1 Princess Gabrielle was baptised in the church in 1927. King Albert and Queen Marita were married in the church in 1930. 2
Website: www.stiftskirche-berchtesgaden.de. Telephone: 08652.9468-0.
---
Notes
1 Irmingard Prinzessin von Bayern, Jugend-Erinnerungern, 1923-1950 (St. Ottilien: EOS, 2000), 26 and 35. The Apostolic Nuncio to Germany, Archbishop Eugenio Pacelli, later Pope Pius XII, administered the sacrament of baptism. Princess Irmingard incorrectly states (on page 35) that her younger sister Princess Editha was baptised at Berchtesgaden; in fact Editha was baptised at Schloss Hohenburg.
2 Ibid., 34. "Hochzeit im Berchtesgadener Schloß". Münchener Neueste Nachrichten 83. Jahrgang, Nr. 240, seite 6.
Image 1 (Facade): "Pfarramt St. Andreas", http://www.stiftskirche-berchtesgaden.de.
---