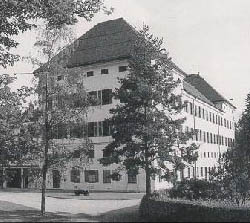 Schloss Hohenburg
Lenggries - Schloss Hohenburg
The town of Lenggries is located about 70 kilometres south of Munich.
Schloss Hohenburg is located on Hohenburgstrasse just to the south of the town of Lenggries in the village of Hohenburg. The castle was bought by Duke Adolph of Nassau (later Grand Duke of Luxemburg) in 1870. 1 For many years it was the summer residence of the Grand Dukes of Luxemburg.
Queen Antonia (fourth daughter of Grand Duke William IV of Luxemburg, son of Grand Duke Adolph) was born here in 1899 and spent much of her childhood here. It was here that she and King Rupert had their civil marriage ceremony and their wedding reception in 1921. Two of their children were born here: Prince Heinrich in 1922, and Princess Editha in 1924. Princess Editha was also baptised here. 2
Queen Antonia's sister, Grand Duchess Charlotte of Luxemburg, sold the castle in 1950. Today it houses two girls' schools owned by the Archdiocese of Munich and Freising: the Mädchenrealschule St. Ursula and the St.-Ursula-Gymnasium. Princess Sophie attended the Mädchenrealschule St. Ursula from 1980 until 1984.
(Telephone: 08042.4606; School website: http://home.t-online.de/home/hohenburg.lenggries/gymi.htm)
Notes
1 Jean-Louis Schlim, Schloss Hohenburg:die nassauisch-luxemburger Residenz in Bayern (Oberhaching: Aviatic, 1998).
2 The Apostolic Nuncio to Germany, Archbishop Eugenio Pacelli, later Pope Pius XII, administered the sacrament of baptism; cf. Irmingard Prinzessin von Bayern, Jugend-Erinnerungern, 1923-1950 (St. Ottilien: EOS, 2000), 35. Princess Irmingard incorrectly states that Princess Editha was baptised at Berchtesgaden.
---