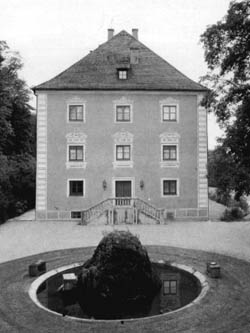 North facade
The town of Berg is located on the eastern shore of Lake Starnberg about 25 kilometres south-west of Munich and four kilometres south of Starnberg.
Schloss Berg (Wittelsbacher Strasse 27/29, Unterberg) has been owned by the House of Wittelsbach since 1669. It is perhaps most famous as the place where King Ludwig II of Bavaria died mysteriously in 1886.
In 1948 the castle was thoroughly restored. The Gothic details added by King Ludwig II of Bavaria in the mid-nineteenth century were all removed. This returned the castle to its seventeenth and eighteenth century appearance. King Albert made Schloss Berg his main residence; it was here that he died in 1996.
The castle is not open to the public. A gatehouse blocks the view of the facade. In winter the castle can be seen from the lake, but during summer it is blocked by trees. The former castle grounds are now a public park.