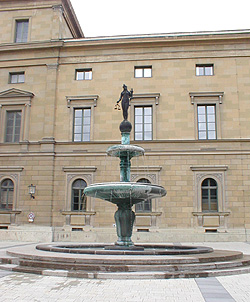 Kronprinz-Rupprecht-Brunnen
A fountain erected in honour of King Rupert stands in the Marstallplatz on the east side of the Residenz outside the entrance to the Bayerischen Akademie der Wissenschaften (the Bavarian Academy of Sciences and Humanities). 6 The fountain was designed by Bernhard Bleeker 7 and was unveiled May 18, 1961. 8 The fountain is made of Eifel-basalt, while the steps are made of Würzburg limestone. Rising above the centre of the fountain is a crowned female figure holding a pair of scales in her right hand (symbolizing justice) and a statue of the goddess Athena in her left hand (symbolizing science and art). On the fountain is an inscription: "Kronprinz Rupprecht von Bayern zum Gedenken" (In memory of Crown Prince Rupert of Bavaria). There is a similar fountain (but without the statue of Athena) in front of Schloss Berchtesgaden.
The Residenz Museum is open daily 9:00 a.m. - 6:00 p.m. (entrance € 4,00).
Telephone: 089.290671.
Notes
1 Elena Bianchini Braglia, Adelgonda di Baviera: L'ultimo duchessa di Modena, Reggio, Massa e Carrara (Modena: Edizioni Terra e Identità, 2004), 158.
2 Hubert Glaser, Ludwig III. König von Bayern: Skizzen aus seiner Lebensgeschichte (Prien: Verkehrsverband Chiemsee, 1995), 70.
3 Richard II was succeeded (de facto) by King Henry IV. Henry's daughter, Blanche, married the Elector Palatine Ludwig III in 1402, and brought the crown as part of her dowry.
4 The travelling set was originally presented by the City of Paris in 1810 to the Archduchess Marie Louise of Austria on the occasion of her marriage to Napoleon Bonaparte. When Marie Louise died, it was inherited by King Francis I (who also received the Duchy of Guastalla from Marie Louise).
5 Hans F. Schweers, Gemälde in deutschen Museen: Katalog der ausgestellten und depotgelagerten Werke, 2nd edition (München: K.G. Saur, 1994), I, 4, 1870. The portraits are each 88 cm X 64 cm. Walter Thor was born in 1870 in Neusalz an der Oder, and died in 1929 in Munich.
6 King Rupert was named an Honorary Member of the academy in 1911. King Francis II was named an Honorary Member of the academy in 1999.
7 Bernhard Bleeker was born at Münster in 1881; he died at Munich in 1968. He completed a number of commissions for the Royal Family. In 1910 he sculpted a bust of King Rupert's grandfather, Prince Regent Luitpold of Bavaria. In 1917 he designed the King Ludwig Medal for Science and Art. In 1952 he sculpted a bust of King Rupert's father, King Ludwig III of Bavaria.
8 Otto Josef Bistritzki, Brunnen in München: Lebendiges Wasser in einer großen Stadt (München: Georg D. W. Callwey, 1974), 78.
Image 1 (South Facade): unknown source.
Image 2 (Marriage Anniversary Tablet): © Noel S. McFerran 2005.
Image 3 (King Ludwig III of Bavaria): © Noel S. McFerran 2005.
Image 4 (Allerheiligenhofkirche): © Noel S. McFerran 2005.
Image 5 (Kronprinz-Rupprecht-Brunnen): © Noel S. McFerran 2005.
---
This page is maintained by Noel S. McFerran (noel.mcferran@rogers.com) and was last updated June 6, 2005.
© Noel S. McFerran 2000-2005.