IL GIORNO 12 OTT. 1722
S. M. GIACOMO III
RE D'INGHILTERRA
E LA SUA CONSORTE
OSPITARONO
IN QUESTO CONVENTO


V.CAMP.F.170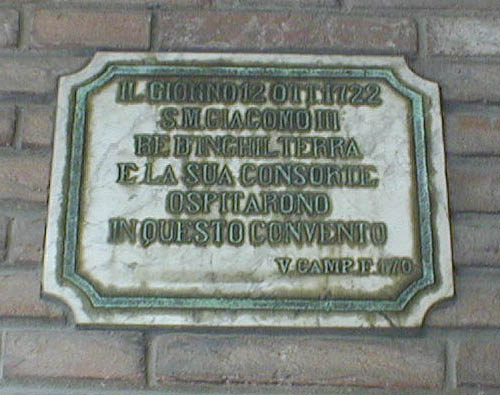 Inscription
Cesenatico can easily be reached by train from either Ravenna or Pesaro. Trains run almost every hour. When travelling from Pesaro, sometimes one must change trains at Rimini. From the train station, walk south-east along Viale Cecchini (parallel to the train tracks). After crossing the canal, immediately turn left on Via G. Bruno; after one block, turn right on Via Aurelio Saffi. The first turn on the left is Vicolo Cappuccini; the church is on the right side.
---
Notes
Image 1 (Facade): "Itinierari a Cesenatico", http://www.delfo.forli-cesena.it/smcesenatico/Lento/2001/Itinerari/itinerari.html
Image 2 (Inscription): © Noel S. McFerran 2004.
---
This page is maintained by Noel S. McFerran (noel.mcferran@rogers.com) and was last updated September 3, 2008.
© Noel S. McFerran 2003-2008.