The city of Orvieto is located about one hundred kilometres north of Rome. It is the home of the Gualterio family who for many years were associated with the Stuart court. Cardinal Filippo Antonio Gualterio was King James III and VIII's Ambassador to the Court of Rome. His brother Giovanni Battista Gualterio was made Earl of Dundee by King James in 1705. In 1723 they hosted King James III at their villa in Porano
---
Palazzo Gualterio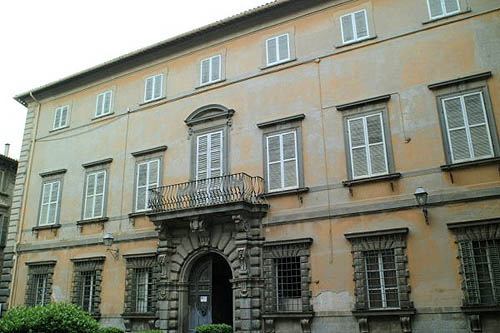 Palazzo Gualterio
In May 1725 King James III and VIII and Queen Clementina visited Orvieto and stayed in the Palazzo Gualterio. On the same trip they also visited Caprarola and Soriano nel Cimino.1 In the Palazzo Communale can be seen a Latin inscription recording the visit:2
IACOBO III MAGNÆ BRITTANNIÆ REGI
QVOD CVM CLEMENTINA CONIVGE VRBEM
VETEREM XII KAL: IVN: MDCCXXV INGRESSVS
IBIQ: TRIDVO COMMORATVS EO BENEFICIO MA=
GISTRATVM ORNAVERIT VT IN PHILIPPI AN=
TONII S·R·E· CARDINALIS GVALTERII ÆD=
IBVS CONFALONERIVM TVNC TEMPORIS IOSE=
PHVM ALBERICI ID MVNVS EXERCENTEM CORA=
M CAROLO M~RIA EQVITE POSCIA ET IO: PETRO
VITI CONSERVATORIBVS APPLICITO AD HVMEROS
ENSE EQVITEM APPELAVERIT CÆTERIS QVIBVSLI=
BET EAMEDEM DIGNITATEM ADEPTVRIS PERPETVO
HONOREM HVNC IMPERTITVS·
ANGELVS AVVEDVTVS CONFALONEQVES ET BELISA=
RIVS SANVITANVS CONSERVATOR PACIS VRBE VET:
POPVLO PRÆSIDENTES OBSEQVENTISSIMI·
G · A · M · R · P ·
KALENDIS SEPT: MDCCXXV· VANNONVS CANC~VS·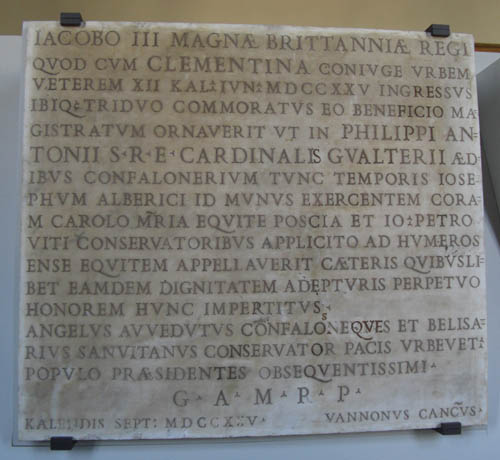 Inscription from Palazzo Gualterio
---
Cattedrale
On the right side of the cathedral of Orvieto is the very famous Signorelli Chapel. On the left side of this chapel are the tombs of the Gualterio family. On the wall is a black tablet with a Latin inscription to the memory of Cardinal Filippo Antonio Gualterio, King James III and VIII's Ambassador to the Court of Rome and later Cardinal Protector of England:
PHILIPPVS ANTONIVS
GVALTERIVS PRIMO VTRIVSQVE
SIGNATVRÆ REFERENDARIVS
MOX PLVRIVM VRBIVM
PROVINCIARVMQ MODERATOR
VICE LEGAVS AVENIONENSIS
ARCHIEPISCOPVS ATHENARVM
ET APVD XRTIANISSIMVM
FRANCORVM REGEM NVNTIVS
APOSTOLICVS · S · R · E · CARDINALIS
ROMANDIOLÆ A LATERE LEGATVS
IMOLENSIS AC TVDERTINÆ
ECCLESIÆ PRÆSVL
ANGLIÆ PROTECTOR
REGIJ ORDINIS
S · SPIRITVS COMMENDATOR
On the floor is a very wide Latin inscription to the memory of Giovanni Batista Gualterio, whom James raised to the Peerage of Scotland as Earl of Dundee:
| | |
| --- | --- |
| [line 1] | D · O · M |
| [line 2] | IOANNIS BAPTISTA GVALTERY FILIVS PATRICIVS ROMANVS ET DOMICILLVS URBEVETANVS IACOBI III · ANGLORVM REGIS BENEFICENTIA |
| [line 3] | COMES DVNDEE VICECOMES EYTAN BARO ET EQUES REGY ORDINIS S · ANDREÆ ATQUE INTER MAGNATES REGNI AC SCOTIÆ PARES COOPTATVS |
| [line 4] | A PHILIPPO V HISPANIARVM REGE DVX CVMIARVM IN AGRO MESSANENSE ET BARO CVM IVRE SANGVINIS RENVNCIATVS |
| [line 5] | AB INNOCENTIO XIII · MARCHIONATVS TITVLO CORNIOLI CASTRI GVALTERIÆ GENTIS HÆREDITARY INSIGNITVS |
| [line 6] | A BENEDICTO XIII · NON VSITATIS PRIVILEGYS AVCTVS QVODQVE MAGIS EST AC VIRORVM PRINCIPVM PICVLIARE |
| [line 7] | A PONTIFICVM LIBERALITATE APOSTOLICIS SANCTIONIBS VIR NOBILIS NVNCVPATVS |
| [line 8] | ET PLVRIES GLADIO MINIME DEPOSITO PVBLICE SVSCEPTVS ARAM HANC QVAM PHILIPVS ANTONIVS CARDINALIS EXORNAVERAT |
| [line 9] | AD TANTI VIRI MEMORIAM ET FRATRIS SIMVL DE SE OPTIME MERITI PIETATEM TVENDAM NOBILIORI FORMA ABSOLVIT |
| [line 10] | ANNO MDCCXXIX · |
---
Notes
1 James and Clementina were in Rome, according to their custom, for the Feast of the Ascension, May 17, 1725 (cf. Cracas 1212 (12 maggio, 1725): 26; their return to Rome "dopo essersi trattenute molti giorni alla Villeggiatura di Caprarola, ed altri Luoghi circonvieini" is noted in Cracas 1221 (2 giugno, 1725): 12.
2 Private communication from Lynda Evans, November 20, 2007.
Image 1 (Palazzo Gualterio): Commune di Orvieto, "Palazzo Gualterio", http://www.comune.orvieto.tr.it/i/39D10935.htm.
Image 2 (Inscription from Palazzo Gualterio): © Lynda Evans 2007 (Key to Umbria: Orvieto: Museum in Palazzo Comunale).