The town of Porano is located about five kilometres south of Orvieto.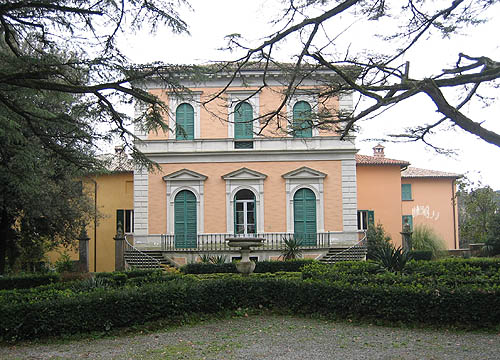 Villa Paolina
At Viale Marconi 2 is the Villa Paolina. In the eighteenth century this property was owned by the Gualterio family and was called the Villa del Corgnolo (or sometimes Villa del Cornaro). Cardinal Filippo Antonio Gualterio was King James III and VIII's Ambassador to the Court of Rome. His brother Giovanni Battista Gualterio was made Earl of Dundee by King James in 1705. In 1708 King James and his mother Queen Mary Beatrice agreed to be godparents to the Earl of Dundee's daughter, and in 1709 King James was godfather to the earl's son. 1
In 1723 King James visited the villa. For the occasion, the family built a small bridge to allow James to cross a valley unimpeded. 2 There is an Italian inscription on the rear facade of the villa above and to the left of the central doorway:
GIACOMO III. RE DELLA GRAN BRETAGNA.
ONORO' QUESTA VILLA DELLA SUA REALE DIMORA
L'ANNO N S MDCCXXIII
GIUNSE IL VII GIUGNO PARTI IL X GIUGNO

James III, King of Great Britain,
honoured this villa as his royal residence
in the year of our Lord 1723.
He arrived June 7; he left June 10.


Inscription on the Villa Paolina
In 1874 Senator Filippo Antonio Gualterio sold the property to raise funds for the cause of the Italian unification; the villa was acquired by the Marchesa Paolina Viti (from whom the present name of the villa comes). Today the villa is occupied by the Istituto per L'Agroselvicoltura of the Consiglio Nazionale delle Ricerche (National Research Council).
Telephone: 39.0763.374674.
Notes
1 Melville de Massue de Ruvigny, The Jacobite Peerage, Baronetage, Knightage, and Grants of Honour (Edinburgh: T.C. & J.C. Jack, 1904), 46.
2 Private communication from Eleonora Gualterio del Corgnolo, August 23, 2006.
Image 1 (Villa Paolina): © Eleonora Gualterio del Corgnolo 2007.
Image 2 (Inscription on the Villa Paolina): © Eleonora Gualterio del Corgnolo 2007.