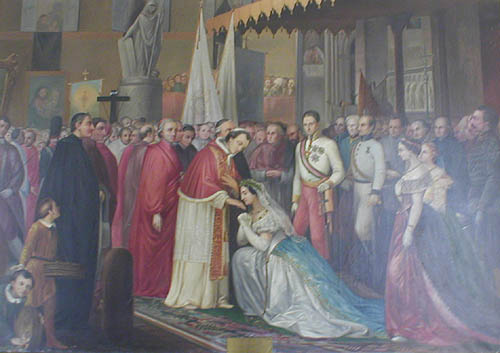 The Visit of Pius VII
Among the items owned by the Archbishop of Modena is a ring given to Monsignor Luigi Ferrari by King Francis I on the occasion of the baptism of his daughter Princess Anna Beatrice in 1848. 4 The ring is set with a hyacinth surrounded by twelve brilliants.
There are also two ecclesiastical vestments which were given by Princess Maria Teresa, countess of Chambord, sister of King Francis: a purple velvet chasuble and a purple velvet cope. 5 It is possible that these are among the vestments now on display in the Museo del Duomo.
Notes
1 The painting is a 1901 copy by S. Grandi of an 1857 original by Geminiano Mundici.
2 Bartolomeo Pacca, Relazione del viaggio di Pio Papa VII a Genoa nella primavera dell'anno 1815 e del suo ritorno in Roma (Orvieto: Sperandio Pompei, 1833), 120-121.
3 Cf. a photograph in Albano Biondi, Il Palazzo Ducale di Modena: sette secoli di uno spazio cittadino (Modena: Panini, 1987), 263. The photograph was taken circa 1930. The painting was then located in the same room as Adeodata Malatesta's "Alfonso III d'Este taking the Franciscan habit".
4 Giuseppe Pistoni, Il Palazzo Arcivescovile di Modena (Modena: Aedes Muratoriana, 1976), 72.
5 Pistoni, 72.
Image 1 (The Visit of Pius VII): © Noel S. McFerran 2007.