Sophie, Hereditary Princess of Liechtenstein
---
Sophie Elizabeth Marie Gabrielle von Wittelsbach was born at Munich, October 28, 1967. She is the eldest daughter of Duke Max in Bavaria and of his wife, Countess Elizabeth Douglas. From her birth Sophie has been recognised by the Jacobites as a "Princess of England, Scotland, France and Ireland". She used the title "Duchess in Bavaria", but also bore the title "Princess of Bavaria".

Sophie was baptised on November 18, 1967, in the chapel at her family home at Wildbad Kreuth. Her godparents were Archduchess Gabriele of Austria and her aunt, the Countess of Sunderland (commonly called "Duchess of Marlborough").

Sophie grew up in Bavaria, first at Wildbad Kreuth, and then at Schloss Wildenwart. She first went to the local elementary school in Wildbad Kreuth, and then from 1978 to 1980 she attended the girls school operated by the Institute of English Ladies (a Catholic religious order) in Heiligenstatt. She continued her education at the Mädchenrealschule St. Ursula in Lenggries and from 1984 onwards at the Adolf-Weber High School in Munich.

After her graduation in 1988, Sophie spent three months at the Inchbald School of Interior Design in London. Returning to Bavaria in the autumn of 1989, she enrolled at the Catholic University of Eichstatt, pursuing studies in history and English language and literature.

On July 3, 1993, in the parish church of Saint Florian, in Vaduz, Liechtenstein, Sophie married Alois, Hereditary Prince of Liechtenstein, eldest son of Hans-Adam II, Reigning Prince of Liechtenstein and of his wife, Countess Marie Kinsky. After their marriage, Sophie and Alois lived from September 1993 until May 1996 in London where Alois worked for a firm of chartered accountants.

The couple have four children:
Joseph Wenzel (born May 24, 1995, London)
Marie-Caroline (born October 17, 1996, Grabs, Switzerland)
Georg (born April 20, 1999, Grabs, Switzerland)
Nikolaus (born December 6, 2000, Grabs, Switzerland)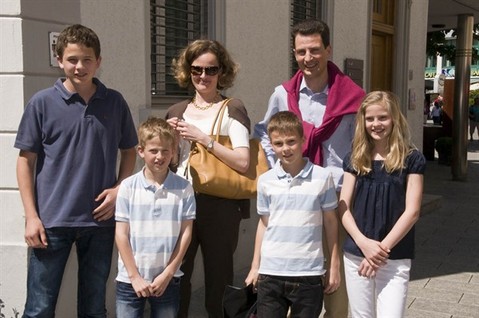 Princess Sophie with her family, Summer 2009
After her father Max, Sophie is heiress presumptive to all the British rights of her uncle Francis. She is a Dame of the (Bavarian) Order of Theresia and a Dame of Honour of the (Bavarian) Order of Saint Elisabeth. Since 1996 Sophie and her husband have lived with their children in Liechtenstein.
---
This page is maintained by Noel S. McFerran (noel.mcferran@rogers.com) and was last updated June 26, 2010.
© Noel S. McFerran 1998-2010.